Donald "Donnie" Hult, Jr. Memorial Page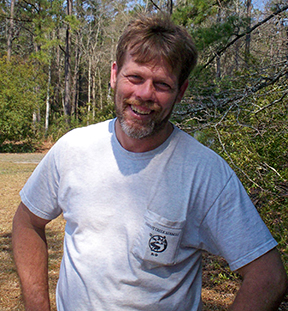 Developer of Instinctive Obedience Training Systems, Founder NIODTA®
Owner/Operator Dog Training Camps USA, NC K9 Training
We are preserving this page in honor of our cherished founder, husband, father and community leader who gave so much to everyone else, including saving many, many precious dogs along the way…
Donnie's Early Roots
The Instinctive Obedience odyssey began in 1966 when Donnie Hult was only five years old. His father, Donald F Hult, Sr, a Washington D.C. Metro PD officer, brought home a dog named Satan, America's first Explosive Detection Dog. Donnie Hult™ grew up alongside Satan and began training with this special German Shepherd at age 12.
Military and Law Enforcement Experience
After serving in the USN from 1980-84 (Lead Petty Officer, Navigation Division, USS Andrew Jackson 619 ballistic missile submarine 1982-84), Donnie Hult™ came home to help his father establish the company called Canine Training, Inc. This new firm, which included Hadnot Creek Kennel thrived under their capable leadership. Today, this superior dog training company is incorporated as NC K9 Training, Inc., located in Swansboro, NC. Donnie and his family reside on the property so they can give constant attention to all the dogs in their care.
From 1984 to 2008, for a period of 24 years, Donnie served as a Carteret County Deputy Sheriff K9 Handler. He also served with the Search & Rescue & Dive detail from 1988 to 2008. He also worked as a lead with the Presidential Detail Explosive Detection K9 Team in 1988 and as a Civilian Consultant to the United States Marine Corps for working dog units from 1984 to 1994. Additionally, in that same timeframe, Donnie trained canine units for multiple police and sheriff departments across sixteen states.
Increasing Demand Leads to New Methods
As demand increased, Donnie sought to improve the methods for training these most needed dogs. His observations and thoughtfulness lead to the creation and refinement of the process which we call Instinctive Obedience training.
With an increasing number of families obtaining a family dog that would be an indoor pet, Donnie also saw a need for the basic, down-to earth training of the average family pet.

In 2001 he began spending his weekends in the Raleigh/Durham area helping families with difficult dogs that other area trainers could not handle. That same year, Donnie also began training other dog trainers. The concepts he had formulated and honed over the years were critical in developing his train-the-trainer program.
The dog training market is flooded with trick/treat trainers, shock collar training, clicker training, complicated language, and even medicine for behavior modification. Donnie recognized the need to upgrade and inform other dog trainers of his methods and skill set. With an unmatched background and family history training the most specialized police and military dogs, Donnie's abilities break through the most difficult cases and help trainers achieve their own potential with the dogs in their care.
Instinctive Obedience Becomes A Standard
In 2007 Donnie founded K9 Solutions in the greater Raleigh area and served as both Co-Owner and Master Trainer and was responsible for training all other trainers. Partnering with thirteen former students in 2012, Dog Training Camp, USA was established. DTC, USA was created with the mission to create a "cottage industry" to provide opportunities for entrepreneurial people, including the stay-at-home-mom or Wounded Warrior, to earn an income by training dogs in their own homes.
Donnie's Instinctive Obedience® methods have raised the bar in North Carolina and throughout the national dog training world. His techniques include positive reinforcement and praise, as well as treating dogs like dogs – Donnie does not use tricks or treats.

It is clear that Donnie loves both people and dogs. It is core to his being. He is passionate about sharing the simple techniques he has learned over the years. What Donnie does is simple to him, and he has the gift to effectively convey that simplicity to other dog trainers.
Donnie's Philosophy and Volunteer Efforts
Part of Donnie's commitment in this industry is to make sure the widest possible range of people are involved in dog training. From 2004 to the present-day, Donnie has trained thousands of personal pets and hundreds of people including Search and Rescue Teams, Service Dogs, and Veterinarian office staffs.
Additionally, dozens of dog rescue organizations across North Carolina ask for Donnie's assistance with difficult dogs and to assist in training foster handlers with basic dog handling skills. Through NC K9 Training, Inc and Hadnot Creek Kennel training services, Donnie Hult has saved the lives of literally hundreds of dogs that would have otherwise been euthanized for behavior problems.
Doing what he loved does not end with business. Although very busy, Donnie is an active volunteer. Boy Scouts of America has also played an integral part in Donnie's life. From Tiger Cub Scout to Boy Scout, and BSA's National Leadership Training, Donnie has embraced the ideals of the organization as the guiding principles and themes of his life. In 2007 Donnie became his son's Cub Scout Leader and he served as BSA Scoutmaster for four years. The twelve points of Scouting—trustworthy, loyal, helpful friendly, courteous, kind, obedient, cheerful, thrifty, brave, clean, and reverent—are simply a way of life for Donnie. Donnie is always prepared, and he does his Good Turn Daily.
Additionally, Donnie has been elected and continues to serve as the first Vice President (2012-present) of the White Oak River Chapter of the Izaak Walton League of America, the only IWLA Chapter in NC. Serving with both IWLA and Scouts has given Donnie the privilege of mentoring several Eagle Scouts. As an avid outdoorsman, when Donnie isn't training dogs and/or people, he is out in the woods training Boy Scouts, or he is training several service dogs each year pro-bono.
Instinctive Obedience Leads The Way
Donnie's experience over the years has allowed him to develop training techniques that give people the ability to utilize their dogs' instinctual behavior in an uncomplicated way using simple-to-follow methods. Donnie teaches people this through simple communication techniques that dogs understand. His combined experiences enable him to explain and demonstrate these techniques to large groups of people in any setting in an easy, relatable manner.
In Memoriam
Donnie Hult™ loved working with dogs, gaining their confidence, and having them perform. When he was with a dog you always saw a smile on his face. Donnie's greatest satisfaction in life was making a difference. If you gave any dog, any person, or any group 30 minutes with Donnie and they came away enriched, empowered, and maybe even inspired.
Godspeed and Thank you.
Simple. Effective. Instinctive. Real Life.