All About The Dogs We Train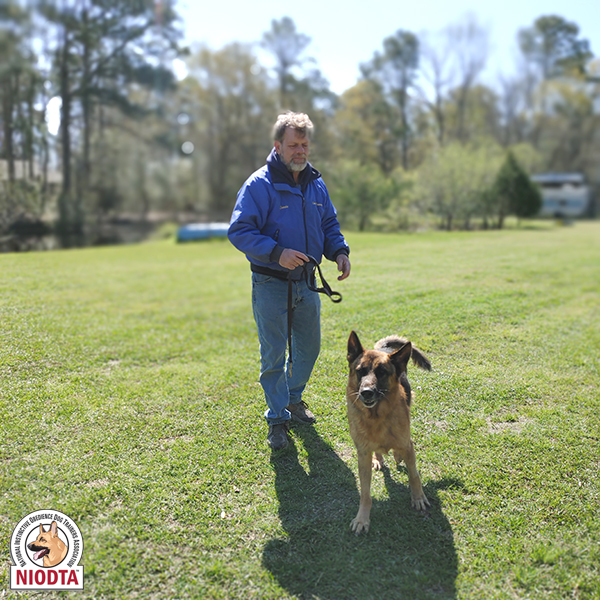 The remarkable thing about the dogs we train is that they are all different. Our training fits any kind of dog, any level of dog, and their people. Our training methods are all Instinctive and leadership based. We tailor the training to fit your needs and the dog's instincts.
Dogs need structure and needs to know who is in charge our training works with your routine, your own behavior, teaches you to correctly read your dog's instinctive behavior and how to use it and channel it so that you are a team with your dog. Also, our training is like anything else new, the more you practice it the more you get out of it.
One of my all-time favorite clients is what I wish for with all my clients and the definition of the perfect client and exactly what I have just described. This is the story of Caroline and Zeus.
Caroline came to us when her new German Shepherd puppy started nipping at people, he was around 5 months old. Her family knew of my Father since he had trained her parents dogs years ago, as clients at his training business in Raleigh NC. When they moved to our area, they came to us here. While Zeus was here for his three-week board and train, we explained to Caroline that after the first 7 days that the more she came out to work with us the better the training would be. Zeus the puppy was not actually mean at all. He was just testing and trying to establish who was in charge. There was no leadership or structure just yet. We taught him the structure he needed in the first week of training. The following two weeks Caroline came twice a day to have lessons with us. Near the end of the three weeks, we had progressed to off leash training and going out in town so that Zeus learned that the rules and leadership did not change no matter where he went. We followed up with a house-training session and meeting up in public. It has been 6 years since that training and to this day Caroline can take Zeus to all her adventures and he is a great dog with impeccable manners. I am sure since I still stay in contact with them that if she ever gets another dog that I will be hearing from her.
I share this because it shows that putting the work in with our training it lasts for life. We do this so that people get to enjoy their dogs. We love that our training when practiced and the follow through is done we have changed peoples and dogs' lives. We get clients for life because it works. I go out in the community and have dogs come up to me that I have not seen in years soooooo excited, their owner exclaiming "OMG I am so sorry normally they are so well behaved!" not recognize me because it has been so long since they saw me, but their dog knows.
National Instinctive Obedience Dog Trainers Association® Inc 
Home of Instinctive Obedience® Training Methods